COVID-19 inspire masks production at Southside church
By St. Clair Murraine
Outlook staff writer
Darice Richard and Adrienne Stephenson always do what most walking partners do — talk with every step they take.
During one of their summertime walks, the impact of the coronavirus was very much on their minds. They struck up a conversation about whether children who attend title 1 schools would have enough masks when they return to brick-and-mortar classrooms.
The two women – Richard, a pharmacist, and Stephenson, an assistant dean in the Graduate School at FSU — decided to start a campaign to get masks for the economically disadvantaged children. Several organizations and individuals joined the drive, brining masks or fabric to the Pavilion in Tallahassee Mall for several weeks.
They set a goal to collect 5,000 masks for distribution. That number has since doubled.
"This is just a labor of love," Stephenson said. "We really didn't expect for it to be this big."
In the midst of the volunteers who are donating masks are Hazel Muhammad and Janis Stanley. The two women are on a mission of their own to make as many masks as they can.
It started as a gesture to help protect people who attend Greater Love Church who are among most vulnerable to COVID-19. Soon they were making masks and handing them out to the homeless on Orange Avenue, not far from the Southside church.
"They need mask, too," said Muhammad. "They need to be safe."
Stanley and Muhammad have lost the exact count on the number of masks they've made since they began doing so in a room at their church in early spring. They have turned two large folding tables into a production line. Muhammad cuts patters and Stanley sews.
The tables are lined with uncut fabric and halfway-completed masks in the area where Stanley sews. The prints are colorful from those that feature college sports logos to children's themes and Black Lives Matter.
They've produced about 40 masks some days, averaging about 200 each week they show up and put in about four hours of work. Recently they've been getting some assistance from Brittany Washington, a FAMU student who puts in volunteer hours at the church.
She's considered learning to sew, she said, adding that being a part of the project might be an incentive.
"I'm opened for anything they would let me do," said Washington, a junior majoring in elementary education. "I have no problem doing anything.
"I want to get into (sewing) but I never had the time. It's something I will get into."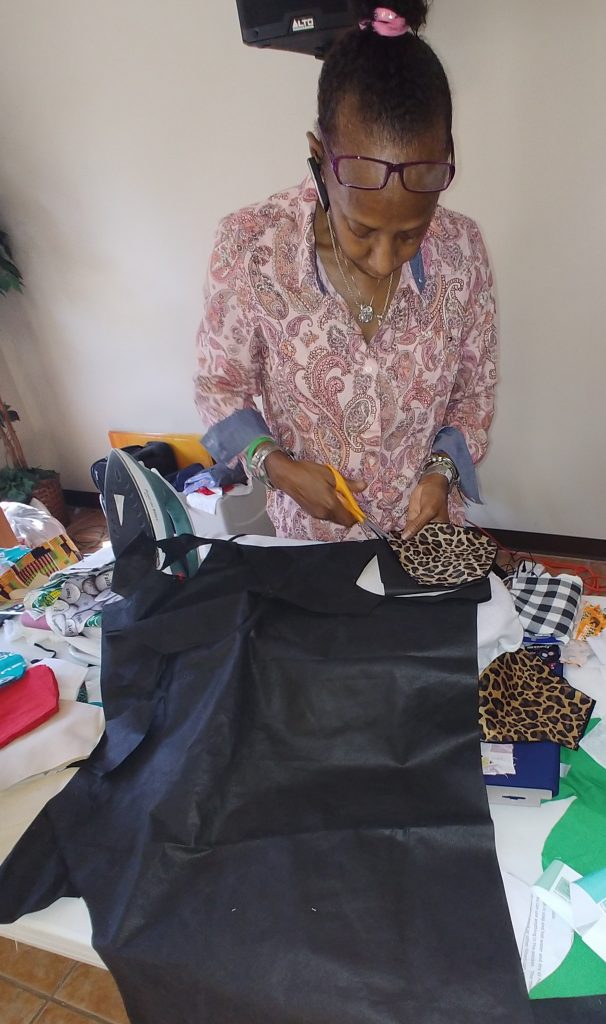 Muhammad and Stanley started their production with a basic, colorful horizontal, pleated mask that was fastened to the face by tie strings. They've since gone on to making a wider variety of masks, some with adjustable elastic that goes around the ears.

As labor-intensive as the production of masks seems, Stanley said she looks forward to sewing every day.

"I can't stay home," she said. "I've been working all my life.

"Well, we are just having a ball."

Both women are retired. Stanley worked several years for the postal service until 2001. Up until recently, she held down a part-time job at Bond Community Health Center. Muhammad is retired since 2017 form the Department of Financial Services.

The time she spends making masks means more to her than burning time, Muhammad said.

"To me it's very therapeutic," she said. "I don't know what I would do without it. I just can't sit at home every day."

Many of the masks that they produce are given away, with a few exceptions such as when they're commissioned to make masks for a fee.

The Red Cross is one of the beneficiaries of the women's charity.

Bob Holdredge, a volunteer who heads up the Red Cross's services to the Armed Forces personnel, said the mask he collects go to the local veterans' clinics and out-of-town veteran hospitals.

"Our donated masks are really ideal for the veterans in our community because many of them don't have a lot of resources themselves," Holdredge said. "Many of them are older and when they show up for their appointments they don't have a mask."

Some of the masks that Holdredge collected from Stanley and Muhammad were also given to three local ROTC branches.

Some days Stanley and Muhammad spend time creating prototypes that they say are driven by the type of fabric that they purchase or is donated. Seemingly there is no end to their creativity.

"I never thought it would last this long," Muhammad said. "I never imagined in a million years that we would be in the month of October and we would still be making mask and buying fabric."


Warning: count(): Parameter must be an array or an object that implements Countable in /data/11/0/112/52/764704/user/782211/htdocs/site/wp-content/themes/dialy-theme/includes/single/post-info.php on line 4